The 9th China Information Fusion Conference and the 10th anniversary celebration of the information fusion branch of China sponsored by the information fusionsociety of China was held in Taiyuan, Shanxi Province from September 23 to September 25, 2019. The conference was organized by the North Institute of Automatic Control Technology. Famous academicians and experts attended the conference andmade reports on the latest research results in related fields.

Professor Xiao Gang, Dr. Zhang Xingchen and Ye Ping, members of AAII research group, attended the meeting. On the morning of the 24th, the conference held its opening ceremony. At the opening ceremony, academician He You reviewed the progress of the information fusion branch in the past ten years and expressed his high hopes for the scientific research workers.Subsequently, the conference commended the outstanding scientific and technological units and outstanding young researchers who made outstanding contributions in the field of information fusion, and Shanghai Jiao Tong university was awarded the honorary title of "Excellent Scientific and Technological Units".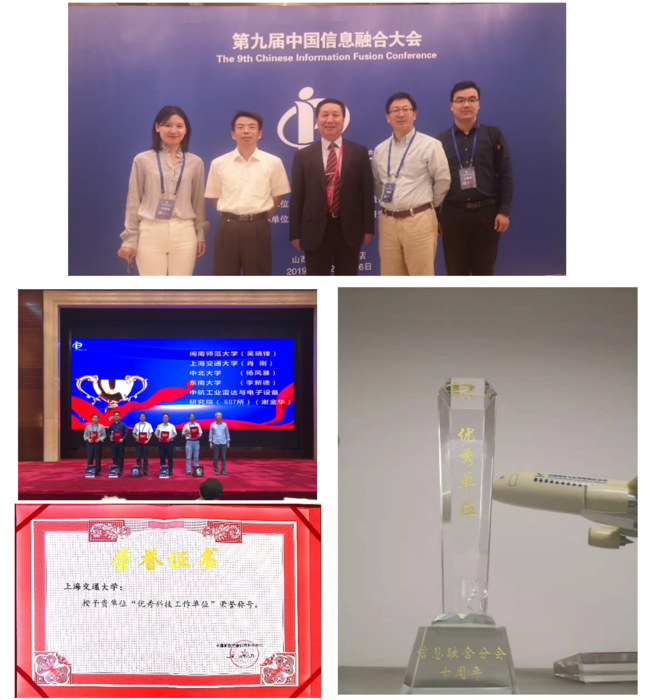 On September 24, 25, target detection, target location and tracking, high-level information fusion, target recognition, image fusion at the venue atthe same time, the venue activities including experts report and oral report(paper) , make the authors of the paper and experts having a good communication and a heated discussion on subject frontier problems. Team member Dr Zhang and Ye Ping made oral reports respectively, caused a breakout the focus of attention and discussion both of the chairman and peers. Dr Zhang's paper " Visible and Infrared Decision-level Fusion Tracking Basedon Siamese Fully Convolutional Network" won the 9th China information fusion conference best paper nominated award. A total of 278 papers were received at the conference, and 2 best papers were awarded and 9 best papers were nominated.